You are here: Homepage >> Events In Cardiff >> Other >> Echo the Eco-Friendly Dragon Returns!
Echo the Eco-Friendly Dragon Returns!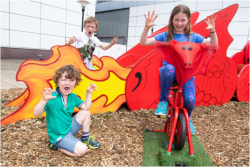 When: Wednesday 1st August 2018 -> Sunday 12th August 2018 - 12pm - 5pm
Where: The Red Dragon Centre, Atlantic Wharf, Cardiff, CF10 4JY
Echo the Eco-Friendly Dragon returns to The Red Dragon Centre for a final stop.
With rising temperatures and a busy summer schedule filled with family activities, Echo the Eco-friendly Dragon couldn't resist another stopover.

The dragon, who is passionate about our planet, visits The Red Dragon Centre at Cardiff Bay, 1-12 August before moving back home in September.

Made entirely of recycled materials, Echo will lie just outside The Red Dragon Centre providing some great, free outdoor fun for families and visitors to the Eisteddfod.

The creators of Echo, Eggseeds will also be on hand daily between 12-5pm so families can find out more about how he was made.