You are here: Homepage >> Pubs >> City Centre >> Callaghans Irish Bar
Callaghans Irish Bar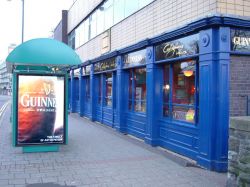 Castle Street, Cardiff, CF10 1XD [Map]
Tel: 029 2034 7247
What more could you ask for - a large Irish bar located right alongside the Millennium Stadium walkway. You can be stood at the bar drinking your Guinness one minute, and in your seat in the stadium the next!
Being so close to the stadium - Callaghans is an obvious favourite on match days. I was once stood near the doorway during a Wales v Ireland match and a stadium steward walked in offering 2 free tickets to the match. Needless to say, I took the tickets and Callaghans has been alright by me ever since! Wales lost the match incidentally, no surprises there then.

Callaghans has all the essential ingredients for being a good Irish bar:

- They serve a good pint of Guinness.
- The atmosphere is always good humoured...and generally very loud with it!
- Live music can be enjoyed here EVERY night of the week.
- The walls are dripping with all manner of replica Irish antiques.

Being a hotel bar (located under the Holiday Inn) Callaghans is also open later than other pubs. It is generally open until 2am on most nights of the week.

There is a good range of bar food served throughout the day including all the usual dishes: burgers, pizzas, baguettes, steaks, and ofcourse, the 'All Day Irish Breakfast'.
Posted by Taffy 20th May 2003
Read what other users have to say...
TUESDAYS are:::: MOiST?
every tuesday:

Johan Flapsandwich & Tommy Tank take over the pub and transform it into the ultimate hang-out.
With massive Projections showing short films and music videos. A comfy environment with a kicked back vibe. MOiST is the only place to be mid-week.
FREE ENTRY ALL NIGHT!
£1.50 selectd drinks!
OPEN TIL 2AM


are you.....?
Posted 19th Oct 2006 11:04am by fatnek
Anyone could inform me more about the Tuesday Salsa? Do i need a partner to do this dancing? I am still looking out there whether i could go for arabic dancing lesson or Salsa...

but i love Calaghans... so may be i should come one night and have a look....
Posted 10th Aug 2005 12:02pm by calaghans
Great live music
This bar has to be checked out, for it's variety of live music, some of Cardiff and beyond's top bands.

Chilled out, good atmosphere, personaly I've never had any problems here, no fights, etc.
Posted 2nd Aug 2005 5:37pm by bettyboo
So did you join in Taffy?
Posted 20th Aug 2004 1:15pm by J-Lo
Tuesday is Salsa Night!
Went into Callaghans for a few quiet beers last night, only to find that there were about 50 salsa dancers in there strutting their stuff. It turns out that Tuesday night in Callaghans is a very popular salsa night.

For pure entertainment value it was great :)
Posted 18th Aug 2004 10:32am by Taffy
View this entire thread in the forums section...
Post your own comments