You are here: Homepage >> Pubs >> Cardiff Bay >> Waterguard
Waterguard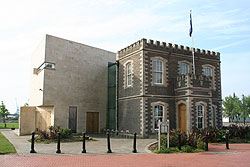 Harbour Drive, Cardiff Bay, CF10 4PA [Map]
Tel: 029 2049 9034
"Yes - it really is a pub!" proclaims the sign outside. You might be forgiven for thinking otherwise as this pub is a little unusual looking.
You enter The Waterguard through its castle facade and walk through a very 'ye olde' looking room into the main bar area. Once in the main bar it is in complete contrast to the front of the building - modern and open with large glass panels and steel beams. It really is a pub of two halves.

The range of beer is interesting too. Being an independent pub it chooses to stock its cellar with beers from the 'Old Brewery' in Tadcaster, Yorkshire. So rather than seeing the usual Worthington and Carling, you have a choice of Samuel Smith bitters and Ayingerbrau lagers (brewed under license from Germany).

With large picnic tables to the rear of the pub - you can sit outside on the balmy summer evenings and look across the bay towards Mermaid Quay.

Bar meals and snacks are served throughout the day and into the night. All in all - a nice pub that provides a welcome change from the norm.
Posted by Taffy 30th May 2003
Read what other users have to say...
An update
The above comments are quite old, so an update is maybe needed.
I don't get in here often, and I've never eaten here, but every time I have been I have had no problems in getting served at all - and I have been on some hot sunny weekends when most places on the Bay can get overwhelmed by visitors. I like the 'unusual' (for Cardiff) choice of beers, and the quirky retro/future look of the place. The sun drenched benches and tables out the back give a marvellous view, - but be aware - it may be hot weather, but a breeze off the water can cut through you.
It might be worth going and trying it out?
As a customer, I also get really frustrated at long waits for service (although I've not experienced it here in the last few years), but then again, I have a bit of sympathy for the management who have to try to accommodate sudden rushes on peak hot sunny days. My suggested tactic is: stand and observe - if it looks like taking a long time, then move on. There are plenty of other places serving food and drinks!
Posted 1st Jul 2010 10:00pm by boffy
Wonderful Pub with Fabulous history
I visit this pub regularly and have always had excellent customer service and enjoy the atmosphere which is never disrupted by loud music like other areas of Cardiff Bay. There are fantastic photos that give a wonderful picture of the pub's history. The drinks are wonderful, a great place for a drink overlooking the beautiful Cardiff Bay!
Posted 15th Aug 2005 11:30am by bubblalou
Yet another terrible service!!
Visited this pub today with my family, and called in for food. When we arrived the place was empty, but even so, the guy behind the bar seemed really flustered.

Our hot drinks were delivered with a series of 'shouts', and the food was served with sarcasm when I made a polite enquiry.

The place filled up quickly and we sat there and listed to the tirade of rudeness the guy serving gave to nearly all of the customers who wanted service.

I love Cardiff Bay, but was appalled by this rude man's behaviour - not a good avert for the region !
Posted 28th Mar 2005 8:34pm by Ros
The Waterguard is one of the best pubs in Cardiff and I'm sorry you received poor service. Whenever I've been in there the service has been great, the food tasty and the beer excellent. The whole ambience of the place makes a change from most of the god awful Brains pubs that make up the majority of pubs in Cardiff. Most cities have a fair number of pubs you can really regard as excellent. Cardiff has about three. Brains has a hell of a lot to answer for.
Posted 21st Jan 2005 4:06pm by Ligger
I go there quite a bit, and have always found the food to be great. One of the best things about this pub is that at closing time you are given time to finish your drink without any of the bar staff giving you any hassle
Posted 20th Dec 2004 9:19pm by Dazzler
View this entire thread in the forums section...
Post your own comments