You are here: Homepage >> Pubs >> City Centre >> City Arms
City Arms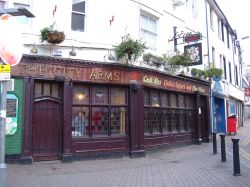 10 Quay Street, Cardiff, CF10 1EA [Map]
Tel: 029 2022 5258
Ok, let me set my stall out from the start - this review is gonna be biased. It can't be anything but, after all this is the pub where I witnessed Scott Gibb's last minute try against England at Wembley in 1999, PLUS Gavin Henson's last minute kick against England in 2005.
When I think of the City Arms I think of memories - the place is steeped in them. Perhaps that is why Barry John, arguably the greatest no 10 in rugby history, still throws the odd appearance there.

The City Arms is perhaps Cardiff's, if not Wales, most famous pub. Set across the way from the majestic Millenium Stadium it has long since welcomed rugby fans from all corners of the globe.

On match days the crowd spills out onto and over the street. The atmosphere is always lively and boisterous but never aggressive. People come to the City Arms for a good time and they rarely go away disappointed.

During the week the clientele consists of a wide and learned bunch who will, at times, provide as much bemusement as amusement. For those of you with an eye to the stars - the odd rock star has been known to show their face there too.

The range of beer is more than adequate to satisfy the average drinker whilst the bar can boast the most bar staff per sq. foot over any other pub in Cardiff.

A match day visit to Cardiff is surely not complete without a walk through the hallowed doors of the City Arms!
Posted by Taffy 14th May 2003
Read what other users have to say...
City Arms - City Landmark
I'm with Taffy, the pub is such a well know place it would be a shame to see it go, so i hope the brewery realise this and the most they do with it is give it a lick of paint, rugby fans from all over the world if you ask them what pubs they have been to in the city 9 times out 10 the City Arms is the first on the list.
Posted 1st Sep 2010 3:07pm by photoevents4u
City Arms landlord set to leave
It's reported in the Echo today that Martin Mears - the landlord at the City Arms - is set to leave the pub as early as next week. Apparently he's been keeping the pub going with his own money during the last few years, due to high rents and declining trade.

After he leaves the pub, it will revert back to Brains Brewery ownership. Brains say that they have no immediate plans, but they will be looking to make changes to the pub in the longer-term.

It seems such a shame that a pub with the character of the City Arms will be losing its landlord. I really hope that Brains don't do anything too drastic to change things, but I can't help thinking that they will do.

Anyway, here's to a really great landlord, who's served the drinkers of Cardiff (and beyond) admirably during his 20 years at the City Arms. Cheers!!!
Posted 1st Sep 2010 10:14am by Taffy
gotta love it
friendly atmosphere, good music one of my favourites
Posted 18th Jan 2008 4:20pm by jammy
Used to be in the family
Who has any OLD info on this pub?
My Grandfather Dan Jenkins used to run this pub, my father John George Jenkins was born there. The pub way back was owned by Hancock's " The sign of Hospitality".
They lived at 120 Lisvane Street, my Dad went to Cathays High School for Boys 1932-36.
My grandfather Dan had some connection with Cardiff City football Club.
Any info ??.


Posted 15th Sep 2005 10:35pm by kipper
Probably the best place to start up. I've lived there for a while, and couldn't find better pub to get pissed. Are there still that old juke box?
Posted 12th Feb 2004 5:13pm by ridji
View this entire thread in the forums section...
Post your own comments