You are here: Homepage >> Pubs >> City Centre >> Dempsey's
Dempsey's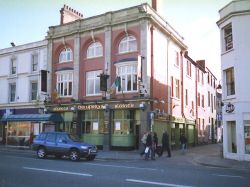 Castle Street, Cardiff City Centre, CF10 1BS [Map]
Tel: 029 2025 2024
Dempseys, opposite Cardiff Castle, is a relatively small but very friendly Irish pub.

Nothing fancy - just a typical spit n sawdust pub with no pretences to being anything other than that.
The first thing that struck me upon entering Dempsey's were the Celtic football shirts up on the wall, including one signed by Henrik Larsson. Definitely a Celtic supporters bar! Most live matches (including Gaelic football) are shown on a large projector screen just opposite the bar.

Tucked away in the corner of the main bar area you'll often find touring musicians entertaining the drinkers with some Irish jigs. Towards the back of the pub there is a small seating area for those who enjoy a bit of peace and quiet while drinking their Guinness or Harp lager.

Upstairs is an area used to stage theatrical events, poetry recitals and gigs by local bands. There is a monthly mod night called 'Fabulous' as well as a fortnightly Indie disco - 'Twisted By Design'. When the upstairs area is not being used for such events it can be hired out for private functions.

There is a bar food menu available throughout the day.
Posted by Taffy 28th November 2003
Read what other users have to say...
Upstairs hire
Yes, you can hire the upstairs. We just had a Tsunami benefit there and raised £500 for Oxfam. 'A drop in the ocean' with Sweet baboo and dj's ginmonkey, zoe innit and miself Davegrooveslave. Crackin.
Posted 18th Jan 2005 7:53pm by grooveslave
Home of The South Wales No1 Celtic Supporters Club
Well, what a place to watch Glasgow Celtic play, especially if it's a European Champions League night. With easily over 100 swaying, singing, shouting, swinging Celts all cheering on their favoured team, the noise was immense. Never has this pub heard such communal singing..."Come on the Hoops" they chant tribally, building themselves to a deafening frenzy of trance-like madness.

Home of The South Wales No1 Celtic Supporters Club which regularly runs trips to Scotland to watch the games. A a friendly outward going mob of folk the likes I have not met in Welsh football supporters. Bearing in mind they tell me that Celtic hold awards from UEFA and FIFA (the World and European governing bodies of soccer) for having the greatest fans in the world and are the only club in the world to recieve these honours, it's easy to see why.

The pub is a shrine to Celtic FC and has many expensive souveniors littering the walls from over the years. A picture that even the Football Association of Wales do not have is there to be seen in the form of the Wales International team of 1910 that featured the first Welshman to play for Celtic, L.R. Roose.

I am smitten and will be back, now as a regular on these wonderful nights of entertainment.

Posted 11th Jan 2005 6:45pm by Cardiff Celt
View this entire thread in the forums section...
Post your own comments