You are here: Homepage >> Restaurants >> Restaurants Now Closed >> Tapas - Cardiff Bay
Tapas - Cardiff Bay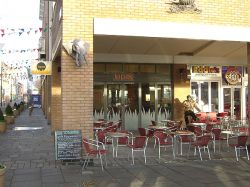 THIS RESTAURANT IS NOW CLOSED!

Cool little place this. It is slap bang in the middle of the restaurant area of the bay but it somehow has got a really homely atmosphere which is often lacking in the bars and restaurants based in the purpose built units that dominate the Mermaid Quay development.
To go along with that is the relaxed (sometimes too relaxed) manner of the waiting staff who, although always friendly and polite, can be a little unorganized. Still, what's the rush? relax, have a beer (wine for the ladies) and chill out.

I would recommend sitting outside if the weather is warn enough. The prime corner location means plenty of people to watch and laugh at and after a couple of beers you could be forgiven for thinking you were in Spain rather than Wales. Well maybe not but you get the picture.

The menu is smaller than I expected but the dishes I tried were excellently prepared and very tasty. I tried the garlic mushrooms, Potato and cheese croquettes, Mussels and King Prawns. After those me and the missus were full but given another couple of beers to wash that lot down I probably could have kept choosing things from the menu all night. The dishes are individually priced at about £4 each which isn't overpriced but means this won't work out cheap if you have a big appetite.

On balance I would probaly give Tapas 7 out of 10 and say that if you live locally and want to try something new give it a go, you won't be disappointed, but if you are visiting the bay for one night only or you want to impress that special somebody you are probably better off looking at one of the other fine restaurants in the same area (De Alto's, Wood's, Tiger Bay, Pearl of the Orient, Scallops to name but a few).
Posted by Mark 11th April 2003