You are here: Homepage >> Visitor Attractions >> The Senedd (The Welsh Assembly)
The Senedd (The Welsh Assembly)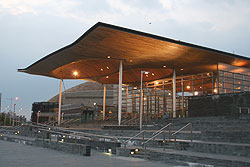 The Senedd is the main public building of the National Assembly for Wales and is located in Cardiff Bay. It was designed by Lord Richard Rogers and was opened by The Queen on St David's Day in 2006.
The Senedd houses the debating chamber and committee rooms for the National Assembly for Wales. It has been designed to be a very open building, with large public areas, including a 120-seat viewing gallery that looks down into the main debating chamber.

The unique and rather unusual design of the building is centred around a large funnel that rises up from the circular debating chamber (at its base) and into the main roof. The funnel allows natural light to be directed into the debating chamber and also allows hot air to be drawn out of the building…something that is never in short supply with 60 politicians present!

Opening times:
Weekdays (term time): Monday and Friday 9:30am - 4:30pm | Tuesday to Thursday 8am - end of business
Weekdays (recess): Monday to Friday 9:30am - 4:30pm
Weekends: Saturday, Sunday and Bank Holidays (all year) 10:30am - 4:30pm
(Please note that last admission is 30 minutes before closing).

Contact details
National Assembly for Wales
Cardiff Bay
CF99 1NA
Reception: 029 2089 8004/8071
Website: www.assemblywales.org

Public viewing of The Plenary
Plenary is the full meeting of all 60 Assembly Members, which takes place on Tuesday and Wednesday afternoons from 1:30pm.

There are 120 seats in the public viewing gallery and members of the public can book a seat up to 3 weeks in advance. Call the information line on Line on 0845 010 5500 for more information, or book online at: www.assemblywales.org

How to get there
By car: Exit the M4 at junction 33, follow the A4232 to Cardiff Bay and follow signposts
By bus: The Bay Express bus service departs from Cardiff Central every 10 minutes and stops outside the Wales Millennium Centre, which is adjacent to the Senedd.
Posted by Taffy 13th May 2007