You are here: Homepage
Welcome to BIGCardiff.co.uk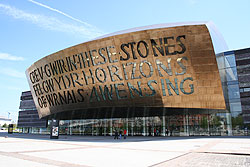 Wales Millennium Centre
During the past 10 years Cardiff has firmly established itself as one of the UK's top tourist destinations. Cardiff is a lively, engaging and cosmopolitan city with something to offer every visitor. From top sporting events at the Millennium Stadium, to World-class stage performances at the Wales Millennium Centre, not to mention the UK's biggest free outdoor summer festival, the list goes on...
BIGCardiff.co.uk has been set up to offer both visitors and residents a place to share their thoughts and experiences of Cardiff. We encourage you to register and contribute your own experiences to this website. Once you have registered you will be able to comment on any of the venues featured, post new events, plus you will have full access to the forums where you can post questions and reply to others.
Register today to start contributing your views...