You are here: Homepage >> Events In Cardiff >> Pop Concerts & Festivals >> Madness
Madness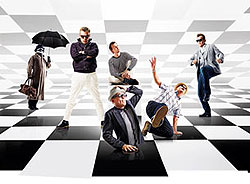 When: Friday 30th November 2012 - 6pm
Where: Cardiff Motorpoint Arena, Mary Ann Street, Cardiff, CF10 2EQ
The Nutty Boys are coming to Cardiff as part of their biggest UK arena tour to date! Madness will perform a gig at Cardiff Motorpoint Arena on Friday 30th November as part of the Charge Of The Mad Brigade UK tour.
Madness are due to release a new album before the UK tour gets underway, so expect to hear some new material played, as well as all their hits.
Tickets to see Madness at Cardiff Motorpoint Arena are on sale now. Follow the links below to buy online, or call the box office on 029 2022 4488.
Related Links