You are here: Homepage >> Events In Cardiff >> Comedy >> For The Love Of Mrs Brown
For The Love Of Mrs Brown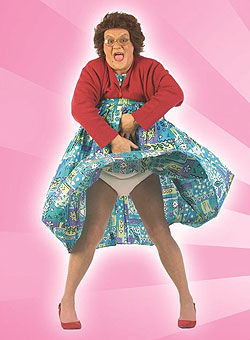 When: Tuesday 18th June 2013 -> Saturday 22nd June 2013 - 7:30pm
Where: Cardiff Motorpoint Arena, Mary Ann Street, Cardiff, CF10 2EQ
Mrs Brown's Boys will visit Cardiff again in 2013, as part of a brand new UK arena tour. The latest instalment of this hilarious comedy show will be performed at Cardiff Motorpoint Arena between 18th and 22nd June.
The new show, which is titled For The Love Of Mrs Brown, will see Mrs Brown deal with Granddad's Viagra addiction, her flamboyant hairdresser son and his partner's bickering, her daughter willing to go under the knife to get a man's attention, and the appearance of Superheroes in her own home!
Tickets to see Mrs Brown's Boys at Cardiff Motorpoint Arena are on sale now. Follow the links below to buy tickets online, or call the box office on 029 2022 4488.
Tuesday 18th June 2013 - Tickets Sold Out
Wednesday 19th June 2013 - Tickets Sold Out
Thursday 20th June 2013 - Tickets Sold Out
Friday 21st June 2013 - Tickets Sold Out
Saturday 22nd June 2013 (Extra Matinee Show) - Tickets Sold Out
Saturday 22nd June 2013 - Tickets Sold Out